If John-Paul Smith is right, some of the world's biggest investors are setting themselves up for a major disappointment.
The London-based strategist, one of few to anticipate the slump in emerging markets that began in 2011, sees no sign of a turnaround and says the current environment resembles that of the late 1990s, when crises in Southeast Asia and Russia roiled the entire asset class. His stance clashes with bullish pronouncements from money managers including BlackRock Inc., Franklin Templeton and Research Affiliates LLC -- an adviser to Pacific Investment Management Co. that predicts developing-nation assets could become the next "trade of a decade."
While Smith lacks BlackRock's trillions under management and Franklin Templeton's global footprint, the founder of research firm Ecstrat Ltd. has a track record for getting it right on emerging markets. His consistently pessimistic outlook since late 2010 foreshadowed losses of more than 30 percent in the MSCI Emerging Markets Index, while he gave early warning of Russia's 1998 stock-market crash as a strategist at Morgan Stanley in Moscow.
"If there is a historical analogy for emerging markets at the present time, it's with the 1997-98 period," Smith said in an e-mailed response to questions

on Thursday

.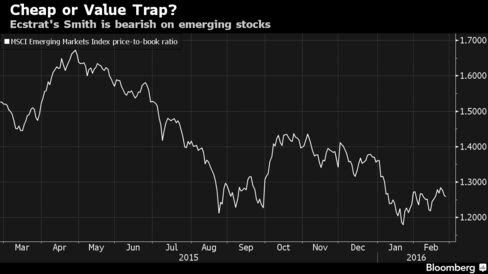 He sees two major reasons for pessimism. The first is a lack of progress in reducing the state's grip on developing-nation economies, a key part of his bearish thesis five years ago. Smith cites Brazil's inability to move on from "state capitalism," a model that's helped plunge the economy into its worst recession in a century. He also worries about Russia, Turkey and Poland, where he says policy makers are moving in a more "authoritarian" direction.
Smith's other big concern is China, where he predicts a financial crisis will strike as soon as this year. Nonperforming loans are poised to surge as borrowers pile on debt to repay their existing loans, he says, while companies face "big" asset writedowns as the economy slows and commodity prices sink.
"There is a significant possibility that China and Brazil, in particular, will have to undergo some form of economic or financial crises," he said.
Smith admits that yields on emerging-market debt have grown more attractive in a world of rock-bottom interest rates and says that some developing-nation currencies, notably the South African rand and Mexican peso, look undervalued. But he's unconvinced that emerging-market bonds would be immune to economic turmoil in China and Brazil. He says investors should focus on allocating assets to specific countries rather than making blanket bets on global emerging markets.
'False Comfort'
Such caution is at odds with a growing number of bulls. BlackRock, the world's largest money manager, said

on Tuesday

that developing-nation bond buyers are being compensated for challenges ranging from falling commodity prices to China's economic slowdown. Christopher Brightman, the chief investment officer at Research Affiliates, argued in a post on Pimco's website the next day that emerging-market stocks are "exceptionally cheap."
"The exodus from emerging markets is a wonderful opportunity -- and quite possibly the trade of a decade -- for the long-term investor," Brightman wrote. The MSCI Emerging Markets Index rose 0.5 percent at

10:29 a.m.

in Hong Kong, paring a weekly decline.
Shares aren't as cheap as they seem, according to Smith, who started Ecstrat in 2014 after a three-decade career at money managers and securities firms. While MSCI Inc.'s developing-nation index is valued at 1.3 times net assets, near the lowest level since the global financial crisis in 2009, Smith says corporate balance sheets are poised to get much less attractive as firms write down the value of their reported assets.
"Against this backdrop, the superficially low level of valuations gives a false comfort," he said. "There will be significant write-offs."