The world's biggest pension fund has two good reasons to extend its switch from bonds into stocks: sovereign debt with negative yields and a plunge in equities that cut valuations to a three-year low.
Credit Agricole SA says the Bank of Japan's decision last month to adopt rates below zero on some reserves will force the $1.2 trillion Government Pension Investment Fund to lower its domestic bond holdings to as little as 25 percent of its portfolio, 10 percentage points lower than its current target. GPIF would have to buy 6.2 trillion yen ($54 billion) of domestic stocks just to achieve its allocation target of 25 percent, according to Bank of America Corp.
"As yields from JGBs turn negative, GPIF is going to have to question whether it can keep things as they are," said Kazuhiko Ogata, a Tokyo-based economist at Credit Agricole. "They'll probably head towards lowering their bond holdings and become more aggressive in buying stocks and foreign securities."
At stake is about 50 trillion yen in Japanese government bond holdings of GPIF, which is facing political pressure to raise returns in one of the fastest-aging nations in the world. The retirement fund suffered its worst returns since 2008 due to an equity rout in the quarter ended September. Prime Minister Shinzo Abe says that the fund's performance isn't directly tied to the Nikkei 225 Stock Average, responding to criticism that GPIF is losing public money by investing in shares.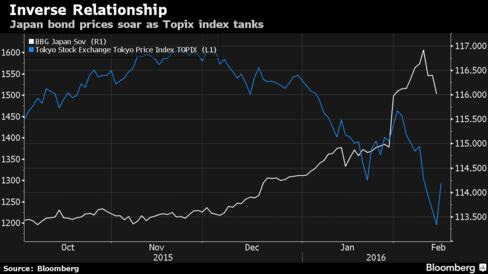 Central bank Governor Haruhiko Kuroda adopted negative interest rates last month in a bid to spur spending and inflation. The Topix index rally that ensued lasted all of two days before the gauge continued to extend this year's plunge amid an equity rout which has seen more than $7 trillion wiped from global markets since the start of 2016. The yield on 10-year JGBs plunged to a record minus 0.035 percent last week.
The Topix has dropped 7.3 percent since end-September, while the Bloomberg Japan Sovereign Bond Index has gained 2.4 percent. The equity gauge is traded at 12 times estimated earnings on Feb. 12, near its cheapest since September 2012.
The Topix swung between gains and losses

on Tuesday

to trade at 1,301.54 at

1:57 p.m.

in Tokyo, after surging 8 percent

on Monday

.
"In an environment like this where equities are cheap and bond prices are high, GPIF would probably be selling debt and buying stocks anyway," said Bank of America Merrill Lynch's Chief Japan Rates Strategist Shuichi Ohsaki. "And now that the BOJ is adopting negative interest rates, GPIF is likely to reduce domestic bonds and provide support for Japanese stocks" by buying them.
As the BOJ began charging interest

Tuesday

on some deposits it holds, rates in the nation's overnight interbank market are hovering around zero while banks try to catch up in setting negative interest rates on their systems. The unsecured overnight call rate fell to zero, according to Central Tanshi Co. The weighted average overnight call rate was at 0.074 percent

on Monday

.
Need to Sell
According to estimates by Ohsaki, GPIF probably held 42 percent of its portfolio in domestic bonds, 19 percent in Japanese stocks, 14 percent in foreign debt and 20 percent in overseas equities as of Feb. 12. That indicates the fund needs to sell 11.7 trillion yen of JGBs to hit its 35 percent target for the asset, he said. His calculations are based on recent market moves and assumes GPIF hasn't shifted holdings since reporting end-September figures.
GPIF isn't the only major investor in the country being hit by the BOJ's negative rate policy. Japan Post Bank Co. said

Monday

it will halt plans to launch a Japan and U.S. sovereign bond fund because of the BOJ's decision. Also one of the biggest holders of JGBs and one that gets more than 90 percent of its profit from interest income, the firm will be among the most hurt of the major banks from the falling rates, according to Shinichiro Nakamura, a Tokyo-based senior analyst at SMBC Nikko Securities Inc.
Political Pressure
GPIF may find that whatever moves it makes, it faces scrutiny from the public and politicians. Prime Minister Abe has been criticized in parliament by opposition party lawmakers who say the public's pension money is at risk of vanishing as stocks tumble. The fund lost 7.9 trillion yen in the three months through

Sept. 30

, its worst result since 2008, after the Topix tumbled 13 percent in the period.
GPIF forecasts a rate of return of 2.6 percent from its domestic bond holdings in the long-term based on its most optimistic economic scenario, according to its annualreport for the year ended

March 31

. It targets a return of 6 percent from Japanese stocks, 3.7 percent from overseas debt and 6.4 percent from foreign stocks, the report shows.
"If GPIF holds its bonds to maturity, it'll still see capital gains," says Naoki Fujiwara, the chief fund manager at Shinkin Asset Management Co.in Tokyo. "But then the question is what do they buy next? It would make sense for them to let their bond holdings fall naturally. And no doubt they'll be rebalancing now because their weight in bonds would've increased while stocks have definitely fallen."