Jordi Visser, head of investments at $1.4 billion U.S. hedge fund Weiss Multi-Strategy Advisers, has a bold prediction for the world's worst-performing stock market.
Not only does he foresee China's Shenzhen Composite Index beating most global peers by the end of December, he expects the measure to top all others in the next three to five years. Foreign funds should have unprecedented access to the city's equities this year when a delayed exchange trading link via Hong Kong opens up.
In a situation he likens to the U.S. in the early 1980s, Visser sees China succeeding in its attempts to move from an economy driven by industrial expansion to one focused on technological efficiency. With bloated state-run companies clustered on the larger Shanghai bourse, Shenzhen's success in attracting privately run startups makes it the best place to profit from this shift in the world's second-largest economy, according to Visser, chief investment officer at Weiss in New York. The firm's main hedge fund has outperformed the industry average this year and since its 2006 inception.
"Five years from now, when you look at the largest companies in the world, I think the very high number of them will be related to what's happened in Shenzhen," said 49-year-old Visser, who declined to provide details of the fund's Chinese investments. The Shanghai Composite Index "represents China of the industrial revolution, but Shenzhen, because of all these innovative companies, represents the digital economy."
2016 Slump
The Shenzhen gauge, home to almost 1,800 companies in industries from technology to health care, slumped 26 percent this year through Wednesday. That compares with a 19 percent loss in the larger Shanghai Composite and a 2.3 percent drop by the MSCI All-Country World Index. The Shenzhen measure added 1.6 percent by 9:49 a.m. local time on Thursday, as the Shanghai gauge rose 0.7 percent.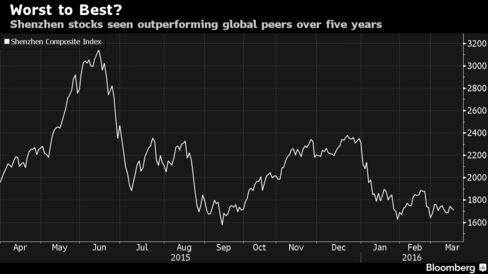 While shares in Shenzhen may still look expensive relative to the rest of the world, valuations have become more reasonable, Visser said.
Stocks in the former fishing village-turned-digital hub drew the attention of Janus Capital's Bill Gross last year during China's equity bubble, when he recommendedbetting against the city's index in June. Gross later said he didn't follow through on the trade, even as the index sank more than 40 percent within three months.
Sales Growth
The Shenzhen Composite trades at 39 times reported earnings, almost half the level of last year's peak. While that's higher than the 29 multiple of the technology-heavy Nasdaq Composite Index in the U.S., companies listed on the Chinese index are projected to boost sales by 37 percent this year, compared with a 4.4 percent increase for firms on the U.S.
"In Shenzhen, there are a lot of companies with very fat growth," Visser said. "Companies in that index are still making money. The PE continues to collapse as the market stabilizes because earnings are coming through. You have to look at multiples from sales growth as well."
China's focus on reducing pollution and increasing automation resembles that of the U.S. three decades ago, where towns had sprung up within a 60-year period and Los Angeles was choked by smog, Visser said. In less than 30 years, Shenzhen has grownfrom a village across the border with Hong Kong into a sprawling city with 10 million migrants from all over the country.
'Entrepreneurial Boom'
"What really helped the U.S. in early 1980s was entrepreneurial boom having companies like Microsoft, Amazon, having leaders like Bill Gates and Steve Jobs," Visser said. "China is going to have the same things. We will learn about entrepreneurs and there will be great stories about inventions that will be created there. The rest of the world will face China in a very different way the majority think about it from today."
One of the major hurdles for foreign funds investing in Shenzhen stocks will be removed when a link with Hong Kong finally begins. Premier Li Keqiang said at an annual news conference in Beijing Wednesday the government aims to begin theconnect in 2016.
Weiss Multi-Strategy is a unit of George Weiss Associates, a brokerage started in 1978. The firm's main hedge fund returned 0.26 percent this year through March 4 and an annualized 6 percent since its October 2006 inception, according to a person with knowledge of the returns. The hedge fund industry posted an average decline of 0.9 percent this year and an annualized loss of 0.14 percent since October 2006.
Emerging Markets
Visser, who predicted in an October 2013 report that China would experience a bull market before the Shenzhen Composite rose almost threefold to a record last year, said he expects emerging markets to outperform those of the developed world in 2016.Investment banks shuttering offices in emerging markets, large fund outflows from the region and panic reaching developed markets are all signs that developing economies have reached a trough, he said.
While China will slow in coming years, the country won't experience a so-called hard landing, Visser said in a report last month. The nation's bad debt is held in "zombie" state-backed firms and local governments akin to the U.S. automakers, banks and mortgage companies that were bailed out or seized by the government during the global financial crisis, he said.
Visser expects the Shenzhen bourse to overtake its bigger neighboring exchange by market value to become one of the largest in the world as major state-owned enterprises struggle to make the transition to a technology-led economy.
The Shenzhen exchange is valued at 17.6 trillion yuan ($2.7 trillion) compared with Shanghai's 23.7 trillion yuan. Japan has a market capitalization of $4.6 trillion.
"There's still too much of a focus on SOEs which to me will not grow in any meaningful way," he said. "You've got a growth side, you've got an acceleration, all in Shenzhen. I am very much optimistic about how much the market can go higher."