Copper is a precious metal these days.
While top miners such as Anglo American Plc and Glencore Plc are selling anything from iron ore and coal to agricultural assets to pay down debt amid a rout in commodity prices, they're loath to part with the best copper resources.
That's because it's one of the few metals expected to be in shortage by the end of this decade as cooling investment means not enough mines are built. Those with cash to burn are taking an interest, with copper a focus for miners and financiers gathering this week for an annual industry conference in Chile, the world's biggest producer.
"Copper is the most desirable commodity," said Michael Scherb, founder of mining investor Appian Capital Advisory LLP in London, whose colleagues are attending the meeting in Santiago. "We are looking very hard at global copper projects."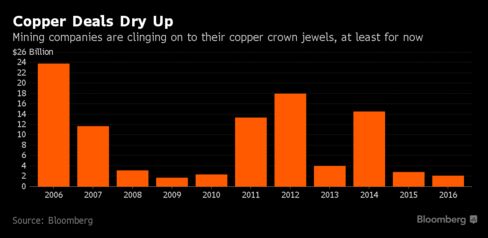 Key to Strategy
One obstacle for buyers is that even indebted miners want to hold onto what has become the crown jewel of industrial metals. Anglo American, the first major London-based miner cut to a junk rating by credit-assessment companies, insists it will hold on to the giant Los Bronces and Collahuasi copper mines.
"We have no intention of selling down," Hennie Faul, Anglo's CEO of copper, said in an interview in Santiago on Monday. "These are tier 1 world class assets. Both of those are key for us in our copper strategy. Both those mines have got further potential in years to come when prices are right and the market is right to expand."
The value of copper M&A in 2015 fell to about $3.1 billion, a five-year low, according to data compiled by Bloomberg. The 27 copper deals in the year, according to Ernst & Young, compared with 38 for coal resources and 117 for gold. The low level of activity "is likely due to the scarcity of assets on the market," E&Y wrote in an industry report.
"There is a lot of smoke, a lot of talk in the room, but not a lot of actual deals," Oskar Lewnowski, founder and chief investment officer of Orion Mine Finance Group, said in an interview. "The sellers have one price expectation and the buyers have a different price expectation."
The positive outlook means speculation about acquisitions is eclipsing real opportunities, according to Diego Hernandez, CEO of Antofagasta Plc, which is keen to invest in copper.
"All the companies that are in trouble, they are keeping their copper assets," he said in an interview in March. "Copper is much better than other commodities."
The pickup in prices has waned in recent weeks and some expect further declines. Goldman Sachs Group Inc. sees a copper bear market lasting through 2018, and Barclays Plc a slump to the low-$4,000s, from about $4,780 a metric ton on Tuesday. The metal has slipped about 6 percent since March 17.
Volatile Period
An extended downturn may be enough to persuade some owners to bail out. Already this year, there has been something of a recovery in copper M&A after last year's slump. Deals valued at $1.8 billion were completed or pending during the first quarter, according to data compiled by Bloomberg.
"I don't think those in the third or fourth quartile are going to be able to survive this period of volatility," said Nelson Pizarro, CEO of Codelco, the world's biggest copper miner, referring to those in the industry at the upper end of production costs.
Among transactions, Freeport-McMoRan Inc. agreed in February to sell an additional stake in one of its biggest mines to Sumitomo Metal Mining Co. for $1 billion as the largest publicly traded copper producer sought to rein in debt. Last month, First Quantum Minerals Ltd. said it would sell its Kevitsa mine, with nickel, copper and platinum-group metals, in Finland for $712 million to Boliden AB, also to curb its borrowings.
While a start, these aren't the top assets that would mark a revival in dealmaking.
"There just isn't anything to buy," Benjamin Cox, CEO of explorer Aston Bay Holdings Ltd., said in Santiago. "The tier 1 majors are going to keep their powder dry. They are not looking to buy junk."