The yen is on a 40-year technically driven climb and that means the Bank of Japan needs to push ahead with radical stimulus next week to avoid this year's surge accelerating, according to Tokyo-based hedge fund GCI Asset Management.
Governor Haruhiko Kuroda should cut negative rates further and use so-calledhelicopter money, Tatsuhiro Iwashige, 52, chief foreign-exchange strategist of the investment solutions group at GCI Asset, said in an April 15 interview. That would drive the yen back above 110 per dollar for a while, he said. GCI Systematic Macro Fund earned 19 percent in the first two months of the year after buying the nation's sovereign notes, returning 173 percent since its inception in February 2014, the firm's head of the quantitative research said last month.
"If Japanese-style helicopter money is implemented, the dollar may temporarily recover to 115 levels," said Iwashige, who began his career in foreign-exchange markets in 1989 as a trader and currency analyst at Manufacturers Hanover Corp. before joining GCI in 2014. "Interest rates should be cut to negative 0.5 percent to give a sense the BOJ is done cutting rates. Kuroda needs to do it in a set."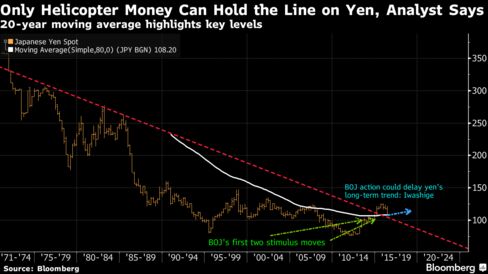 On the sidelines of an International Monetary Fund semiannual meeting, Kuroda told the Wall Street Journal that he won't use helicopter money to help lift inflation to 2 percent. Kuroda said earlier this month that the central bank can lower the deposit rate from the current minus 0.1 percent if needed.
The yen declined 0.3 percent to 109.13 per dollar at 8:47 a.m. in London Tuesday. The currency's failure to depreciate past 147.64 in 1998 indicated that a long-term strengthening trend remained intact and will drive the yen toward 75 in about five years, Iwashige said. Near-term charts, including the 38.2 percent Fibonacci retracement of the move from 75 to 125 yen, put the yen's resistance at about 106.50 to 106.55, he said. Technicals don't signal a shift to 120, Iwashige said.
Kuroda triggered a rally in the yen last year. Five days after the yen bottomed out at 13-year low of 125.86 on June 5, the governor sparked a rebound in the currency after saying Japan's real effective exchange rate was already very weak and that it was hard to see the measure falling further. In August, the yen surged as global equity markets plunged after China devalued its currency.
The flight to the yen as a haven asset has driven it up more than 10 percent this year, the best performance among its 16 major counterparts. That has helped the currency pare its depreciation of about 30 percent during the three years ended 2015 as the central bank pursued its quantitative and qualitative monetary easing. Japan's government bonds with 20 years or longer to maturity have returned more than 20 percent this year as yields dropped to a record.
"Kuroda may be regretting not having pulled the dollar a bit higher to create a buffer," Iwashige said. "What has been happening since August is a nightmare for him."