As steel mills across Europe lose money and shed workers, business is booming in Russia.
The ruble's plunge to a record low this year has helped alter the economics of making the alloy in Russia. The country exports about half its output for euros or dollars, which reduce the cost of labor and materials paid for with the weaker currency. At a time when the world has a surplus of cheap steel, Russian companies like Severstal PJSC remain profitable because they spend about 50 percent less than rivals in Europe and China to produce every ton.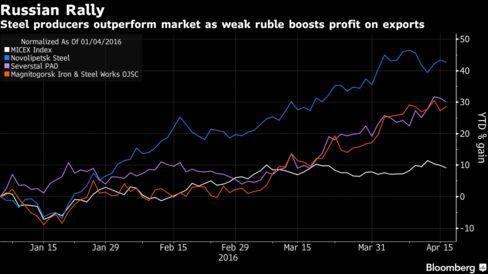 Russian steelmakers also got a boost from stronger domestic demand and an unexpected rebound in export prices, which are having the best start to a year since at least 1994. Since the end of December, shares of Severstal, Novolipetsk Steel PJSC and Magnitogorsk Iron & Steel Works OJSC rallied at least three times as much as the Micex Index of 50 Russian companies. On April 20, Morgan Stanley labeled the industry a core holding, citing increased cash flows and dividends.
"As long as the ruble stays weak, they will be in much better shape than the majority of global steel mills," said George Buzhenitsa, a Dubai-based analyst at Deutsche Bank AG.
Price Slump
Steel prices in Europe tumbled as much as 68 percent from a 2011 peak, mostly because of slowing demand in China, which is now exporting record amounts of surplus output. Supplies got so cheap, most producers can't profitably compete. Luxembourg-based ArcelorMittal, the world's largest producer, has reported four straight years of losses. India's Tata Steel Ltd. is trying to unload U.K. operations it says have almost no value.
The situation was different in Russia, where slumping oil revenues and sanctions have sent the economy into a second year of recession and austerity. The ruble fell 23 percent against the U.S. currency over the past year, touching a record low of 86 per dollar in January. The decline was steeper against the euro, dropping 26 percent. That's proved a boon to Russian exporters like the steel industry because foreign revenue covers more of their domestic costs.
2016 Rebound
In recent months, Russian producers also benefited as global prices rallied on signs of improved demand in China, the biggest user. Hot rolled coil, a benchmark for exports from former Soviet states, jumped 73 percent to $437.50 a metric ton, compared with a 12-year low in December of $252.50, Metal Bulletin Ltd. data show. Severstal said it cost $177 to make a ton of steel slab in the first quarter. BCS Global Markets, Russia's largest brokerage, estimates costs are almost twice that in Europe and China.
Unlike some European companies, including ArcelorMittal, Russian companies haven't had to tap shareholders for funds because they carry little debt. The ratio of Novolipetsk Steel, Magnitogorsk and Severstal's net debt to earnings before interest, taxes, depreciation and amortization is below 1, compared with about 4 globally, data compiled by Bloomberg show. That helps them offer dividend yields more than double the industry average.
"Russian steel companies have global leading margins and the strongest balance sheets," said Wiktor Bielski, a London-based analyst at VTB Capital. "They have also made more operational efficiency improvements in the past three to four years than most of their peers."
Domestic Prices
There may be more gains ahead. Producers will raise domestic prices by 20 percent next month, the most since 2008, to narrow the gap with the export market, where supplies are usually cheaper, according to BCS. Severstal said on April 18 domestic prices are about $30 below those of exports. Magnitogorsk said the following day that there will be a significant increase through May, also partly due to more Russian demand.
That doesn't mean Russia is unaffected by rising supplies or costs. China, which produces half the world's steel, is beginning to use more recycled cars and appliances to make new steel, a method that is cheaper than using iron ore in coal-fired blast furnaces. The Asian country will collect 120 million to 130 million tons of scrap in 2018, up from 70 million tons in 2015, said Viktor Kovshevniy, a director at lobby group Ruslom.com.
At the same time, iron ore prices in China are up 44 percent since the end of December, boosting the cost of making steel in blast furnaces. After three straight annual declines, the raw material is off to its best start to a year since 2010.
Scrap Impact
Longer term, melting more scrap in electric furnaces will lead to lower prices for the metal, including for Russian producers who use mostly iron ore, said Kirill Chuyko, chief of equity research at BCS.
For now, the weak ruble and efficient operations should keep Russian mills profitable, said Sergey Donskoy, a London-based analyst at Societe Generale SA. Severstal probably will have adjusted profit this year of $1.02 billion this year, while Novolipetsk Steel earns $727 million and Magnitogorsk reports income of $466 million, according to analyst estimates compiled by Bloomberg. That compares with an expected loss for ArcelorMittal of $423 million.
Even if steel prices fall back by the end of summer, when seasonal demand from builders slows, Russian producers should still see more gains in the next few months, according to Chuyko at BCS.
"Russian domestic prices are picking up," he said. "We are highly confident that the market will be focusing on the domestic steel-price momentum."