Defense budgets rose 1 percent to $1.68 trillion in 2015, making up about 2.3 percent of the world's gross domestic product, Sipri said in a report Tuesday. While the U.S. spent the most at $596 billion, that was down 2.4 percent compared with 2014, while China's outlay increased 7.4 percent to $215 billion.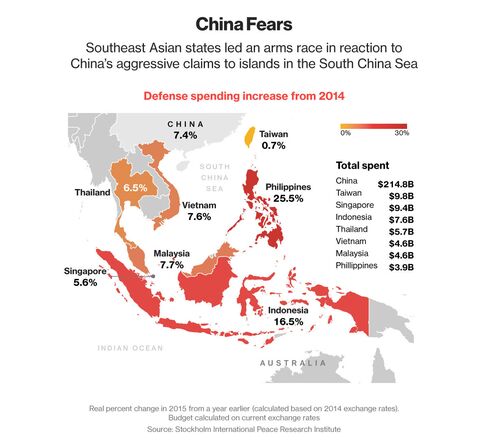 Defense budgets have been under pressure since the financial crash, with some of the world's biggest spenders, including the U.K., France and Germany, scaling back amid austerity programs. Following the November terror attacks in Paris and the expansion of campaigns against Islamic State, those countries plan "small increases" in 2016, Sam Perlo-Freeman, the report's author, said.
Russia's defense budget is set for a slight fall in nominal terms and an 8 percent real decline, Perlo-Freeman said, while Saudi Arabia plans a "large cut," though with a significant budgetary reserve.
India, courted this year by contractors including BAE Systems Plc, Boeing Co.,Lockheed Martin Corp. and Saab AB, had the sixth-biggest defense budget in 2015, after the U.K. in fifth. IHS Jane's analysts forecast it will advance to fourth in 2017, with a 13.1 percent boost to spending for a total $50.7 billion.