In the early 1980s, Hideo Shiozumi walked out of his job as a fund manager and was planning to open a Japanese restaurant, when he got a call from George Soros.
It would change his life. The hedge fund manager, who he'd never even heard of, flew him to New York for an interview and persuaded him to pick stocks for the Quantum Fund. These days, Shiozumi is a one-man band running $1 billion and is beating his peers over pretty much any timeframe. His Japanese equity fund returned more than 400 percent since 1996, versus a 15 percent drop in the market, and he's topping 98 percent of competitors in 2016.
"For the past 45 years, I've been a lone wolf fund manager," Shiozumi, 72, said in an interview in Tokyo. Tanned, sporting a two-toned jacket, open-necked shirt and silver chain, he looks younger. "Right now, I'm having the time of my life."
Shiozumi had already honed his investment philosophy while working for British merchant bank Robert Fleming & Co. throughout the 1970s. It's a traditional stock picking approach: choose a small number of companies posting steady increases in profit and hold them for the long term.
Unadulterated Nonsense
The Legg Mason IF Japan Equity Fund, Shiozumi's London-listed mutual fund, has 42 holdings and the top 10 account for more than half the portfolio.
"You read in the newspapers of managers visiting 400 or 500 companies, but I think that's unadulterated nonsense," he said. "What's important is following up with the stocks you own, rather than seeking out new ones."
Shiozumi hasn't bought a big Japanese exporter for 25 years. Their profits aren't steady because of yen fluctuations, he said, so they don't meet his criteria. He prefers what he calls Japan's new industries: biotech, e-commerce and businesses profiting from the country's demographic predicament. They must be domestic-focused, at least at first, he said.
Within these rules, Shiozumi makes many investment decisions on instinct, he said. He'll sometimes rely on recommendations from analysts he trusts, and he looks for company founders who are passionate about their business. That comes from his time in London, too.
"I was told to leave numbers and so forth to analysts," he said. "The job of the fund manager is to read executives and assess the company's potential."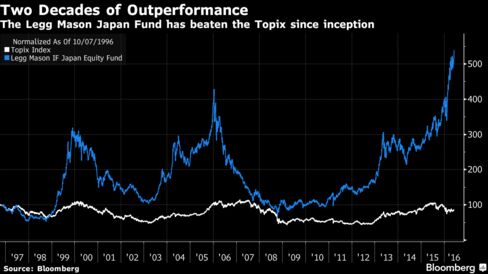 PeptiDream Inc., his top holding at the end of March, came from a sell-side analyst tip. The company has developed a new type of drug-discovery system, and licensed its technology to some of the world's largest pharmaceutical companies. Shiozumi, who took the word of the analyst who said biotech shares would take off, was able to get in before they did. PeptiDream has risen more than 11-fold since its debut in 2013. The stock gained 1.9 percent on Wednesday.
Sosei Group Corp., a maker of drugs for cancer and lung disease and Shiozumi's third-largest investment, has grown so much it now accounts for about 17 percent of the Mothers Index of smaller shares. Sosei added 1.7 percent on Wednesday.
Elderly Presidents
In Nihon M&A Center Inc., the second-biggest holding in his fund, Shiozumi found a way to profit from the world's fastest-aging society and the problems it creates for company succession. The firm acts as a matchmaker for smaller businesses, especially in the countryside, where older presidents can't find someone to take over. He said people-reading also played a part in investing in the company, whose shares jumped more than 13-fold since listing in 2006. Shares slid 0.4 percent on Wednesday.
"I liked what the president said, and I liked his character," Shiozumi said. "We were the first to get into this stock among foreign investors and we continue to hold it."
The pattern is evident for many other picks. He used to play Mahjong with the founder of Don Quijote Holdings Co., an operator of discount stores. The president of Start Today Co., an online fashion retailer, is "very serious despite looking like a musician," he says.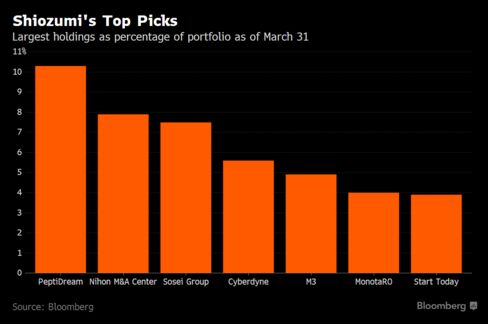 Of course, having few holdings and a reliance on gut can be risky. Cookpad Inc. was one example. Shiozumi says he offloaded the shares earlier this year after the foundermoved to kick out the rest of the board. It was also less effective in 2006 and 2007, when top holdings such as clothing-chain operator Adastria Co. sank and the Mothers gauge also tumbled.
Good Year
Still, the domestic focus is paying off today, as a surging yen weighs on exporters and sends the market lower. Shiozumi's pound-denominated fund has returned 37 percent this year, while the Topix index is down 13 percent in yen terms and less than 1 percent in pounds. Over a five-year period, he's beating 98 percent of peers. In the first quarter of 2016, about 60 million pounds ($87 million) flowed into the fund, which gets all its money from overseas, even as many foreign investors fled Japan. Shiozumi says if it gets much bigger he'll stop accepting investments.
The Japanese investor says he'll continue with his British brand of old-style stock picking, focused on people, less worried about numbers, and suspicious of short-term trading. It's about having the courage to stick to your convictions, said the tennis-playing septuagenarian, who says he has fond memories of working for Soros and no plans to rekindle his restaurant dreams.
"I've been able to do long-term investing because I have companies I love, and there are good and bad aspects to that," he said. "You need a certain type of character to do this job, and you must have staying power.
"