There's a big disagreement brewing in global markets.
While risky assets including equities have surged following the U.K. electorate's historic vote to leave the European Union, government bonds have also rallied; two things that ought to suggest different outlooks for economic growth. Soaring bond prices have sent yields on the perceived safe havens of government debt plumbing fresh lows, even while expectations of looser monetary policy produce a burst of animal spirits in stock markets.
The flight to safety has prompted some analysts to question the durability of the rally in equities, where the S&P 500 was up 3.5 percent last week and the FTSE 100 has erased its post-referendum dip — at least, in local-currency terms. Still others say that money is pouring into stocks as lower bond yields force investors to search for returns in alternative asset classes.
Among the series of record-breaking moves chalked up in the world of sovereign debt last week were the new lows breached by the yields on 10- and 30-year U.S. Treasuries. Spanish yields also dipped to a record, while yields on the entirety of the Swiss government bond market turned negative

on Friday

.
Meanwhile, a Federal Reserve Bank of New York measure of the 10-year term premium — a gauge of the supposed riskiness of longer-dated debt — has fallen to negative 0.66 percent, eclipsing an all-time low last seen when Bob Dylan released his first album.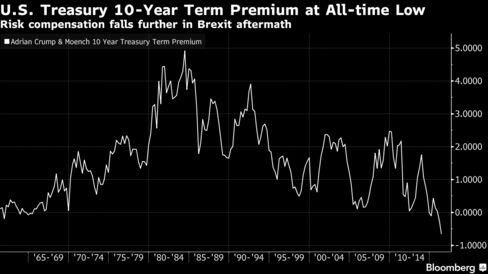 Inflation expectations derived from U.S. bonds are falling at precisely the same time that stocks have jumped, suggesting a "dangerous disconnect" between interest rates and equities, according to analysts at TD Securities Inc.
"We believe that the equity market is complacent about the growth spillover from the uncertainty shock caused by Brexit, but is still pricing in monetary policy easing. Additionally, expectations for no Brexit despite the Leave win or a good deal from the EU appear optimistic. Global growth should be affected by a recession in the U.K. — the world's fifth largest economy," wrote TD Securities analysts led by Priya Misra.
Analysts are also pointing to the flattening U.S. yield curve — that is, that interest rates across different maturities of debt are becoming more similar — as evidence of slowing expectations of economic growth.
The spread between the yield on 10-year and two-year U.S. Treasury notes narrowed in the immediate aftermath of the June 23rd referendum, widened briefly, and is now shrinking again as investors continue to flock to the perceived safety of U.S. government debt. A model maintained by Deutsche Bank AG's Steven Zeng, who adjusts the spread for historically low short-term interest rates, suggests the yield curve is now signaling a 60 percent chance of a U.S. recession in the next 12 months — up from
a 55 percent probability
as of mid-June, and the highest implied odds since August 2008.
"This relentless flattening of the curve is worrisome," Deutsche analysts led by Dominic Konstam said in their note on the model. "Given the historical tendency of a very flat or inverted yield curve to precede a U.S. recession, the odds of the next economic downturn are rising."
Deutsche's model, which compares 10-year yields to three-month yields, is said to be at its most predicatively powerful once its recession probability moves beyond 70 percent. That will happen should the 10-year yield move to one percent, and the three-month yield remain unchanged.
The 10-year yield is currently at 1.44 percent, making a recession just about 40 basis points away according to this particular interpretation of the bond market's moves.