Iron ore will probably extend 2016's rally as China takes further steps to stoke growth and the dollar weakens, according to Prestige Economics LLC's Jason Schenker, whose rare bullish call in the final quarter of last year is turning out to be right.
While the ride may be choppy, the commodity will trade at about $60 a ton this half and average $55 in 2016, said Schenker, president of Austin, Texas-based Prestige. That compares with $53 so far. Further gains are in store, with $62 seen in 2017 and $72 the year after, he said in a phone interview.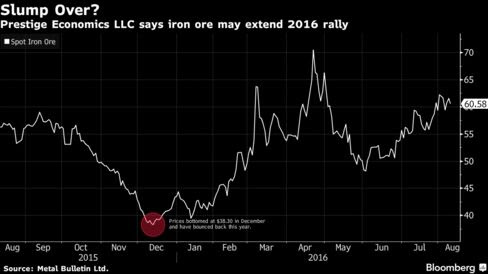 Iron ore has soared in 2016, snapping three years of declines, as stimulus and a credit-fueled property boom in China lifted demand. The upsurge confounded expectations for further losses as supply gained, and prompted banks from Goldman Sachs Group Inc. to Morgan Stanley to revise their forecasts higher. Last October, as iron ore racked up a double-digit loss, Schenker had predicted a rebound, saying that China's government would bolster the economy and steel exports from the world's largest producer would hold up.
'Absolutely Critical'
"What I attribute my success to is working with the macro factors and the macro story and not losing sight of the fact that China had been in a manufacturing recession for over a year and a half," said Schenker, who was ranked by Bloomberg as the top forecaster of base metals in the second quarter and who shares top spot for gold with ABN Amro Bank NV. "The macro picture is absolutely critical for commodities."
Ore with 62 percent content delivered to Qingdao has risen 39 percent in 2016 to $60.58 a dry ton

on Wednesday

, according to Metal Bulletin Ltd. The gains have come as the daily rate of steel output in China hit a record, while shipments of steel products held near an all-time high.
Miners have climbed as well this year, with Rio Tinto Group up 11 percent in Sydney, while BHP Billiton Ltd. rose 13 percent and Fortescue Metals Group Ltd. more than doubled. In Brazil, Vale SA stock has surged 50 percent. The shares of all four producers retreated last year as the rout unfolded.
The reversal of fortunes contrasts with the bearishness that was widespread toward the end of 2015 and in the opening months of this year. The month that Schenker forecast the rebound, the China Iron & Steel Association warned steel demand was collapsing. Prices bottomed below $40 in December.
On Hold
Not everything in the October call panned out, including an expectation for further rate cuts in China as the government sought to buttress demand. While policy makers in Beijing did increase fiscal stimulus and allow the currency to weaken, benchmark borrowing costs have been kept on hold.
This time around, iron ore may benefit as China continues to stabilize, while in the U.S., a softening economy prompts the Federal Reserve to switch tack, adding accommodation, according to Schenker. The dollar is going to weaken, which should be supportive for commodities, he said.
"Additional stimulative Fed policy should be supportive of iron ore prices because it does two things: it not only stimulates the U.S. economy, it's also likely to weaken the greenback," he said. In China, "it's quite possible that they may need to engage in more stimulus, especially if we see the U.S. economy begin to weaken further."
Investors and economists will soon get a chance to assess how China's economy is doing, and what that means for iron ore. Figures on monthly industrial output -- including crude-steel production -- as well as retail sales and fixed-asset investment are due for release

on Friday

.
As China has stabilized, banks have scaled back expectations for weakness in the steel market. With the outlook for demand better now than at the start of the year, the likelihood of iron ore dipping back to $50 is fast declining, Australia & New Zealand Banking Group Ltd. said

on Thursday

.