Billionaire Mukesh Ambani said his Reliance Jio Infocomm Ltd. unit will offer mobile phone calls for free, pressuring existing carriers to follow suit in what's already one of the world's lowest-priced wireless markets.
Jio's service will debut Sept. 5 and will be free until December, after which the company will begin charging subscribers as little as 149 rupees ($2.22) a month for data, India's richest tycoon said on Thursday at the annual general meeting of his Reliance Industries Ltd. flagship. Jio will also not charge for roaming calls within India, he said.
"The era of paying for voice calls is ending," said Ambani. The service will be offered on Jio for life, he said.
Ambani's announcement triggered declines in rivals' shares, paring $1.8 billion off the market value of Bharti Airtel Ltd. and Idea Cellular Ltd. The carriers, along with Vodafone Group Plc.'s unlisted Indian unit, have been bracing for months for the entry of Jio as a new competitor. At Airtel, the market leader, voice calls account for about 70 percent of wireless revenue in India, the world's largest mobile services market after China.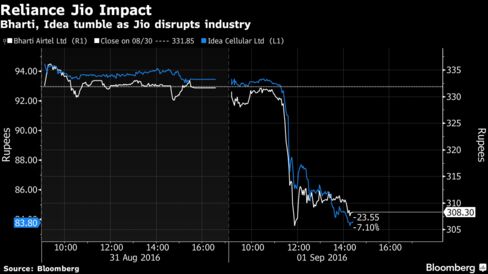 "This is the beauty of capitalism, such disruptions happen and everyone has to adjust to the new reality," said Chokkalingam G., managing director at Mumbai-based Equinomics Research & Advisory Pvt. "It's a pain for the existing telecom companies. But they are already established players and they can give a good fight to Reliance Jio, which is a newbie in this business."
Operators including Airtel have already cut tariffs for data plans by as much as 67 percent and added fourth generation, or 4G, services in an effort to prevent customers from defecting to Jio.
Ambani's mobile service, part of Reliance's plan to diversify from the oil and petrochemicals that comprised about 98 percent of profit last year, has been undergoing testing for at least 9 months with a limited number of users and was initially scheduled to start in December 2015.
Data services have emerged as key to the Indian market, where almost 90 percent of 151.09 million broadband subscribers access the Internet via mobile devices, according to the Telecom Regulatory Authority of India. Ambani on Thursday announced a target to draw 100 million customers to Jio "in the shortest possible time." He said he expects data usage to reach 2.5 billion gigabytes a month on the network.
Jio will offer only fourth-generation services in India. Ambani has said he plans to provide improved mobile phone services and help transform India's digital ecosystem.
Airtel's shares fell 6.5 percent, while Idea dropped 11 percent and Reliance declined 3 percent at the close in Mumbai.
"We welcome Reliance Jio's entry to the digital world and wish them the very best," Airtel said in an e-mailed statement. "We also welcome Jio's call to leading operators to work together."
An e-mail and a phone call to Pragnya Ram, group spokeswoman for Aditya Birla Group that controls Idea Cellular, weren't immediately answered.
Airtel on Monday began offering customers unlimited 1 gigabyte data recharges at 51 rupees each on paying a flat 1,498 rupee charge for a year. It previously slashed Internet fees as much as 67 percent for prepaid services. Vodafone's local unit and Idea Cellular, the country's second and third-biggest operators, have also cut data prices. The top three operators together control about 60 percent of the Indian mobile market by users.
Jio had 1.5 million customers in its beta tests, Anshuman Thakur, the company's head of strategy, told reporters July 15. Ambani said in March that Jio would offer mobile broadband speeds that are 40 to 80 times faster than current average speeds and the network has been designed to provide 10 gigabytes of monthly data for every user.
Highlights of Ambani's speech Thursday:
* Jio network covers 18,000 towns and more than 200,000 villages and will serve 90 percent of India's population by March 2017
* Reliance will begin selling 4G smartphones starting at 2,999 rupees and MiFi devices at 1,999 rupees
* Jio will offer 6,000 movies, as well as music videos and TV shows on its JioCinema app free until December 2017
* Jio will use India's biometrics-enabled national ID system, called Aadhaar, to verify customer details that will allow it to add a million customers a day
* Jio will effectively offer 10 tariff plans ranging from 149 rupees to 4,999 rupees, effectively charging 50 rupees for a GB of data, once the free trial ends January 2017
* Jio will offer the "best-ever international calling rates"