Mark Zuckerberg has been quoted as saying that Facebook (NASDAQ:FB) is not a news/media site. That is important in that Facebook does not, and has no desire to, create the content for users to consume.
However, what is not being discussed enough by the investment community is Facebook's role in the dissemination of news content and where people are going to get their news. Discussions concerning Facebook are usually centered on what new technology acquisitions will drive future advertising growth. For instance, scan the news about Facebook and you will see articles about Oculus, Instagram, and advertising saturation.
The more important factor to FB's future growth is what will continue to bring eyeballs to Facebook's pages, and a large driver of that will be to consume news content.
News Consumption Source is Changing
Historically, when people wanted to get their news, they went to newspapers or the 6 o'clock news. I think we can all think back to growing up with our parents and grandparents sitting around the TV making sure to catch the nightly news in order to find out what was going on in our city, country, or world.
That pattern is changing now. Recent research from the Reuters Institute for the Study of Journalism has found that an increasing proportion of the population are getting their news from online sources (including social media). The following chart from the study highlights the main source of news for different age groups: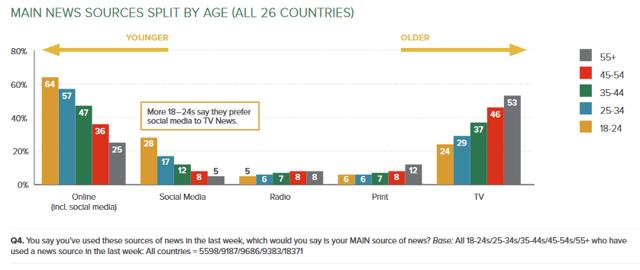 Two important trends can be seen in this chart. First, 18- to 44-year olds are getting their news from online sources, including social media. Second, since this 18 to 44 age group will be the bulk of the people consuming news going forward, one can easily extrapolate that the percentage of people getting their news from online sources such as social media will only increase as online sources continue to become part of our DNA.
Another study that highlights the persistence of people to get their news on social media sites is from Pew Research Centre. In a 2016 survey, it found that 62% of U.S. adults get news on a social media site.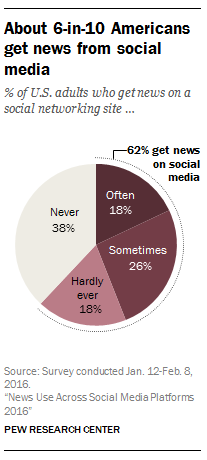 It is clear, based on this research, that more and more people are getting news from online sources, including social media sites like Facebook and Twitter (NYSE:TWTR). However, we also need to look at which site has the highest percentage of users who use the site for news.
Top Social Network for News
The social network with the highest percentage of users who use the site for news is Facebook. In fact, according to Reuters Institute for the Study of Journalism, 44% of those surveyed use Facebook for news. More importantly it states:
Across our sample 44% say they use Facebook for news, which in turn represents two-thirds of all Facebook users.
If you combine the fact that two-thirds of FB's users go to the site for news, with the data that among social networking sites, Facebook has the highest percentage of users who actually use the site for news, the message is clear: news consumption is an important driver for Facebook.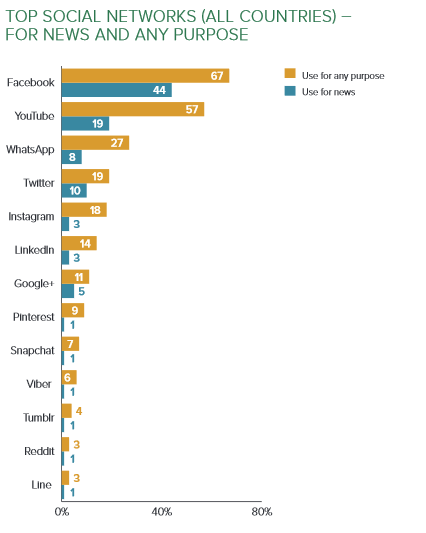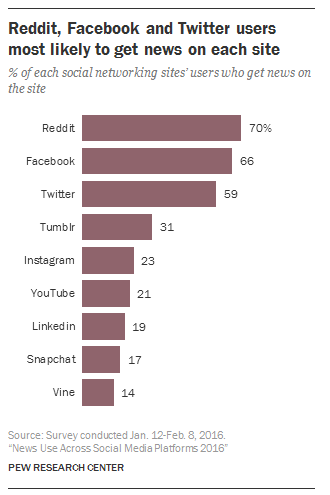 There is no doubt that news consumption patterns are changing.
More and more people are moving away from traditional methods like TV and print and going to social media outlets like Facebook, Twitter, and YouTube (NASDAQ:GOOG) (NASDAQ:GOOGL) to get their news. Add to that the two-thirds of Facebook users using Facebook for news and Facebook having the highest percentage of users using the site for news and it is hard to ignore the importance of this data to the company going forward.
All in all, this trend of moving to online sources for news, especially social media, is positive for Facebook and a key reason the company should not ignore the news as a way to continue to increase eyeballs on its site.
Facebook is right to not consider itself a media company. The creation of content is not its business. Its business is getting advertising dollars in, and a key way it can do that is to focus more on making it easier for people to find the news they want.
As a result, I believe that a bet on the increasing trend of news consumption from Facebook is a good one and makes the stock a must-own for the next 5-10 years at least. There will definitely be some price swings over this period of time, but by capturing the news gathering market, more and more ad revenue can be added as the shift from TV and print continues. As long as it keep costs in line, this will positively impact earnings and drive the share price higher.