In the dark depths of Japan's market, one stock picker is showing up his peers by buying the kinds of companies that others wouldn't touch.
That's if they even knew about them at all. Tatsuro Nigauri targets unloved smaller shares in the Jasdaq venue, where the daily trading in each stock is less than 5 percent of firms on Japan's main board. Once a company is cheap, Nigauri will probably buy it even if it doesn't have great growth prospects, arguing some are bound to rebound.
The approach is paying off this year. Nigauri's J-Stock Active Open Fund is beating 99 percent of competitors, making it the country's best-performing small-cap fund and the third-best of any equity fund, according to data compiled by Bloomberg. It shows, says Nigauri, that Japan's stock markets have entered a new phase where the laggards are leading the way.
"They're mostly value traps, but that's fine as long as they don't fall," Nigauri, 48, a senior fund manager at Daiwa SB Investments Ltd., said in an interview in Tokyo. "Some of them will sometimes go up."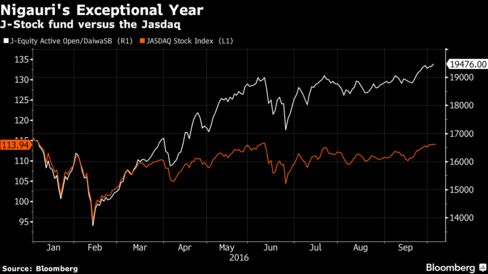 While Nigauri's fund -- one of eight that he manages -- has just 481 million yen ($4.6 million) in assets, its ascent to the top of the rankings highlights how smaller shares are winning in Japan this year as the surging yen blights the outlook for the nation's big exporters. It also suggests that value stocks are coming in from the cold.
"Everything rose from around 2013 at the start of Abenomics," Nigauri said. "Then things changed from 2015. That year and the first half of 2016 was the era of high-growth small caps, those getting their sales in Japan. It was still a tough time for value shares," which have done better in recent months, he said.
In Nigauri's world, picking cheap stocks isn't just a matter of screening for valuations on a computer. In fact, the money manager, who's been running funds for about 13 years, doesn't do that at all. Instead, he has roughly 800 meetings with companies a year -- or more than three a day -- trying to assess how stable their profits are and how much he can trust their forecasts. That, coupled with his view of what their price-to-earnings ratio should be, helps him decide which ones are undervalued.
"For a small-cap fund manager, seeing companies is ultimately key," Nigauri said. "Winning or losing depends on the number of firms you meet."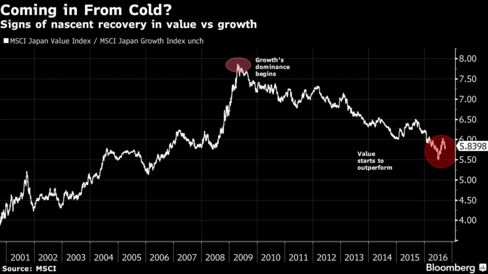 There's no shortage of candidates. Japan has two big venues for such stocks, the Tokyo bourse's Mothers market and Jasdaq, owned by Osaka's exchange. The 219-member Mothers Index is a stepping stone to the main Tokyo market, whereas the 759-company Jasdaq gauge is often an end in itself. After the exchanges merged in 2013, an official said they were considering combining the markets to eliminate overlap. In the meantime, hot prospects tend to list on Mothers.
"I prefer the Jasdaq," says Nigauri from behind a huge stack of papers and documents, his copy of the Kaisha Shikiho, the so-called bible of Japanese equities, by his side. Jasdaq companies make up 94 percent of his fund. "It's the place for value investors," he said.
Mothers stocks are on average more than 60 percent bigger than their Jasdaq peers, despite being public for a shorter time, and three times as expensive by price to earnings. While day traders flock to Mothers' trendy biotech and robotics stocks, they ignore large parts of the Jasdaq, which means the average Mothers company sees more than 10 times more daily turnover. The gulf between the Jasdaq and the Topix is even greater: traded value on the latter is 20 times higher.
Can't Sell
"You can't expect to be able to sell these shares when you like," Nigauri said of his Jasdaq picks. "If you're in a position where you have to sell, you're done for."
Nigauri's fund, which is at least half filled with stocks from a Jasdaq subindex of the measure's more liquid companies, has returned 16 percent in 2016, even as the broader market plunged. Japan's smaller shares have been largely immune to an exodus of foreign investors this year as the yen gained and traders questioned the effectiveness of central bank policy.
The MSCI Japan Value Index started to outperform its growth equivalent in early July after mostly lagging behind it since as far back as 2009. Its gain last quarter was almost twice that of the growth measure.
Nigauri's success comes partly from buying some low-profile semiconductor companies before they surged. Tri Chemical Laboratories Inc., which makes materials for the devices, jumped 5.1 percent on Friday, taking this year's gain to 199 percent, while Rorze Corp., which produces printed circuit board conveyors, added 2.6 percent and is up 173 percent in 2016. Nigauri says he's also been successful in trading Jasdaq stocks that tend to swing in a narrow range.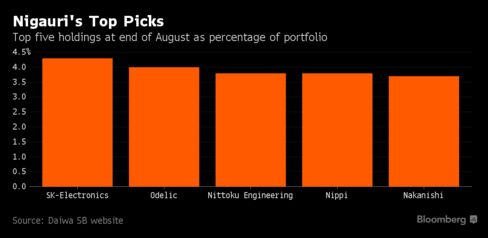 His top holdings among the 49 stocks in the fund include SK-Electronics Co., which makes parts for the manufacturing process of liquid crystal displays, and Odelic Co., which develops lighting. The Jasdaq is full of niche companies, he says.
Nigauri says his fund's outperformance in 2016 was half down to luck, but he was also ahead of the market's shift from growth to value stocks. While he acknowledges that this year's results would be hard to replicate, he says he's confident in his strategy.
"If you buy cheap stocks you can't go wrong," he said. "You wait, you just wait."