Posco, South Korea's largest steelmaker, posted the largest quarterly profit since 2013 as a property and infrastructure boom in China boosts global prices, lifting earnings at Asian mills. Moody's Investors Service revised the company's ratings outlook to stable from negative.
Net income, excluding minority interests, was 539.3 billion won ($476 million) in the three months through September, after a 550 billion won loss a year earlier, the Pohang-based company said in a statement Wednesday. Analysts expected profit of 587.4 billion, based on estimates compiled by Bloomberg. Operating income beat expectations and was the highest since 2012.
Steel prices have climbed more than 40 percent in 2016, rallying from five years of losses. Baoshan Iron & Steel Co., the listed unit of China's second-biggest supplier, has posted its best quarterly profit since 2012, while India's JSW Steel Ltd. may report better earnings this week. Posco's margins expanded on increased sales of higher-value products and restructuring efforts.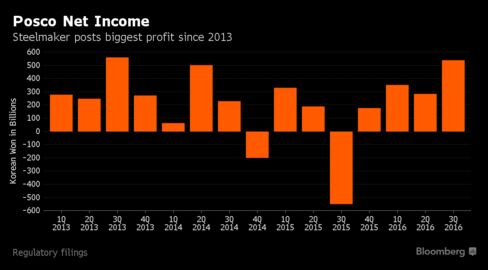 Moody's revised the outlook because the company's financial profile is expected "to improve significantly for all of 2016 and stay stable over the next 12 to 18 months, underpinned by a recovery in earnings and debt reductions," Joe Morrison, a vice president & senior credit officer, said in a statement.
The shares of the world's fourth-largest producer have surged almost 50 percent this year to close at 248,000 won in Seoul on Wednesday before the earnings, after plunging to the lowest level in more than a decade in January. The benchmark Kospi stock index has risen just 2.7 percent.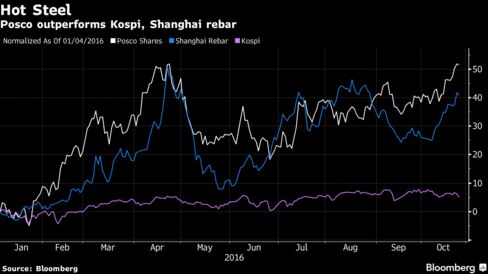 The company's operating profit of 1.03 trillion won beat the 904.6 billion won estimated by analysts, and compared with 651.9 billion won a year earlier, according to the company. Sales of 12.7 trillion won missed estimates of 13.4 trillion won and compared with 14 trillion a year earlier.
Moody's sees profitability improving in the fourth quarter of 2016 from a year earlier, but it will be weaker than the level in the three months through September. The agency sees operating income declining moderately in 2017 against the backdrop of overcapacity in China and South Korea, and a "sluggish" shipbuilding and automobile industry at home.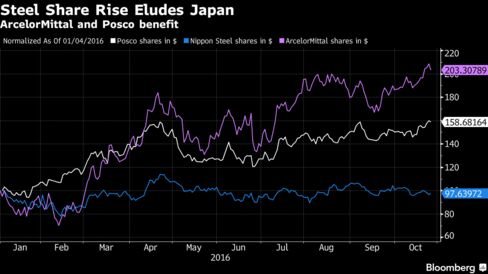 The company has responded to a global glut by focusing on higher-value products and cutting operations that are less profitable. Sales of higher-value items increased to about 4 million tons in the third quarter, or almost half of the total, while the mill has restructured 16 units this year and will deal with a further 19 by the year-end, it said.
Mills in India including JSW Steel will probably report better quarterly figures after products prices rose, the government moved to stem a tide of cheap Chinese imports and some producers boosted output. In Japan, steelmakers may find their performance undermined by the strength of the Japanese yen, which has surged in 2016.
The industry faces the challenges of Chinese overcapacity and soaring prices of coking coal, a steelmaking ingredient. China, which supplies half the world's steel, expanded production in the first nine months, defying calls to curb output, while exports increased 2.4 percent to 85.1 million tons, the highest ever for the period. Hard coking coal prices have more than tripled this year.
While it'll be hard to fully reflect the jump in coking coal costs in product prices because of the state of consumer demand, the rising proportion of higher-value sales means profits are less sensitive to fluctuations, Chon Jung-son, head of corporate strategy, said on a conference call.