Zinc in London headed for its highest close in more than nine years, while lead was set for its strongest finish since 2011 as bullish sentiment spurs a surge in metals. However, a momentum indicator eyed by traders signals that the markets are overbought.
Industrial metals have climbed almost 30 percent in 2016 after three years of losses as demand growth stabilized in China, President-elect Donald Trump pledged to invest in infrastructure and revitalize the U.S. economy, and mine closures curbed supply. Chinese investors have
added
to the speculative binge.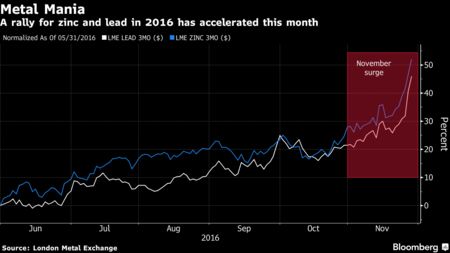 Zinc, the best performer on the London Metal Exchange this year, climbed as much as 5.4 percent to $2,970 a metric ton and traded at $2,954 by 3:23 p.m. in Shanghai. Lead advanced as much as 7.2 percent before trading 3.4 percent higher. Both metals closed up the limit on the Shanghai Futures Exchange.
"We're bullish on zinc and lead given the tightness in ore supply and potential production cuts at smelters in coming months, but the speed of the rally exceeds our expectations," Dina Yu, an analyst with CRU Group, said by phone from Beijing. "There have been no big changes in fundamentals that can explain such a surge. The market is driven by bullish sentiment in all metals."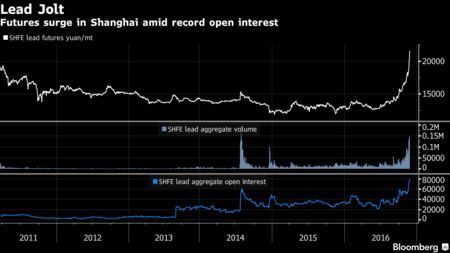 Metals extended gains after the LME Index of six contracts posted its biggest weekly advance since 2011. Copper in London rose 2.1 percent to above $6,000 a ton, and is poised for its best month in more than a decade. The speed of the moves has left the 14-day relative strength indexes for zinc, lead and copper all above 80. Levels over 70 are considered by some investors to be a sign that a rally has gone too far.
Zinc has outperformed its peers, rising more than 80 percent this year, as mine supply dwindles. Lead is up almost 40 percent. The metals, which often come from the same mines, will be supported by "tightening fundamentals and widening deficits over the coming years," BMI Research Ltd. said Monday. Global consumption of zinc exceeded supply for a seventh month in September, according to data from the International Lead & Zinc Study Group.