It came to a head in 2016 as investors -- seeing nothing but bad times ahead -- piled into government bonds that yielded less than they cost.
"It was the opposite of irrational exuberance," said Joachim Fels, global economic adviser for Pacific Investment Management Co., referring to the phrase coined by then Federal Reserve Chairman Alan Greenspan in the late 1990s boom years. "Everyone was worshiping at the secular stagnation church" with its belief in scant economic growth.
Now, as 2017 approaches, investors, economists and policy makers are starting to focus more on what could go right with the global economy rather than just fretting about all the things that might go wrong.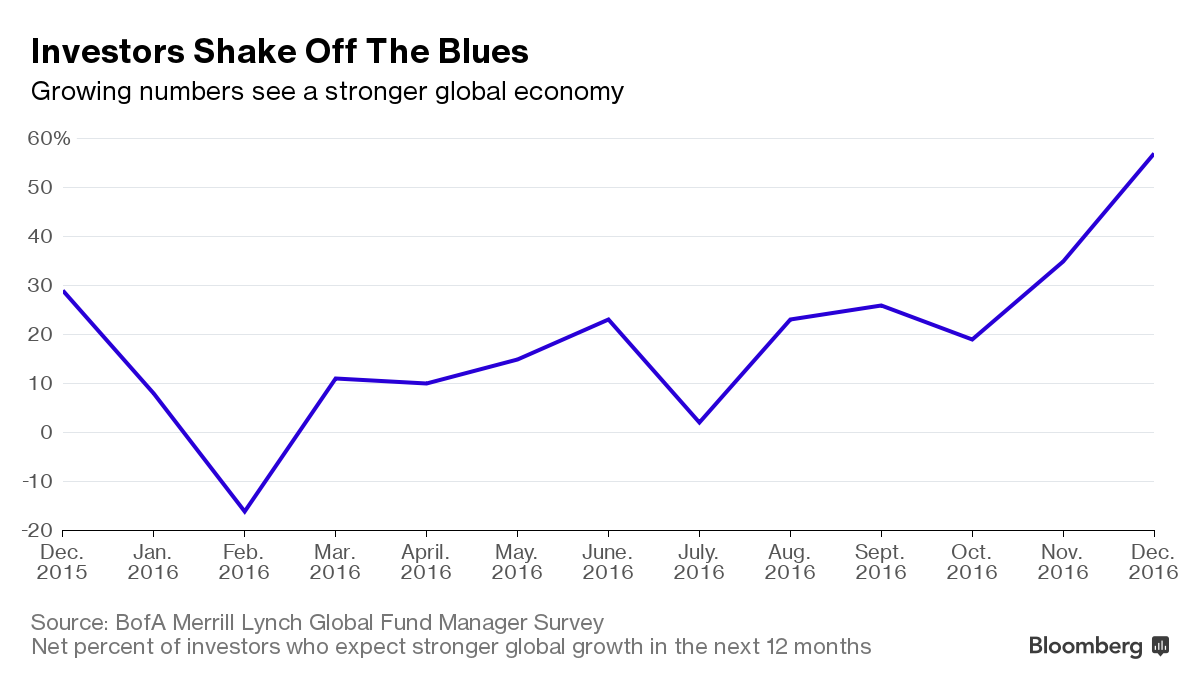 Behind the lifting of the gloom: Hopes that a combination of easier fiscal policies, bigger wage gains and stepped-up business investment will break the world free of the slow-growth trap it's been caught in for the last five years.
"The surprise going forward may well be far better times than anybody had expected," said Allen Sinai, chief executive officer of Decision Economics Inc. in New York.
It starts with the U.S., where Donald Trump's presidential election victory and a Republican sweep in Congress has raised expectations of big tax cuts and less regulation.
"The U.S. economy is going to be very strong," said Kenneth Rogoff, the former chief economist at the International Monetary Fund who is now a Harvard University professor. "There will be a huge boost to business confidence."
Wage Growth
With the unemployment rate at a nine-year low, workers should also benefit, as companies are forced to pay more for the labor they need. "There are some signs that the pace of wage growth has stepped up," Fed Chair Janet Yellen told lawmakers on Nov. 17.
The tight jobs market could prompt the U.S. central bank to raise interest rates more quickly if a Trump-induced budgetary boost leads to faster growth and higher inflation. But that wouldn't be all bad for rest of the world economy as it would also likely lead to an appreciation of the dollar.
"The shift to a more balanced fiscal monetary policy mix in the U.S. is actually quite good for Europe and Japan because it weakens their currencies, improves their financial conditions and reduces pressure on their central banks to take further easing measures," said Charles Collyns, chief economist for the Institute of International Finance in Washington.
The result: "Some of the additional demand being generated by the U.S. is going to flow to foreign producers" made more competitive by the stronger greenback, said David Stockton, a former Fed official now at the Peterson Institute for International Economics in Washington.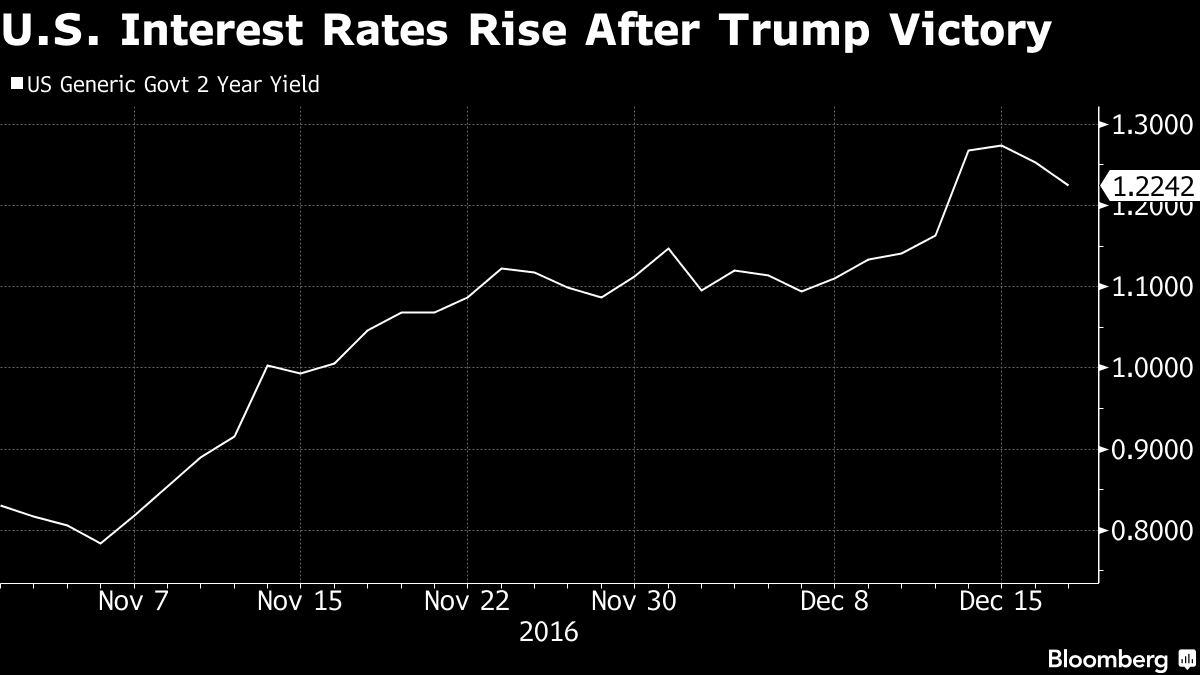 The biggest winner could be Japan, which has already seen the yen drop around 11 percent against the dollar since Trump won the presidency on Nov. 8.
Combine that with the country's own expansionary fiscal policy, a tight labor market and a new monetary regime of capping bond yields and Japan may face what Bank of America Corp. economists call an "historic moment" to emerge from decades of distress.
"The deep pessimism about Japan is overdone," said Ethan Harris, Bank of America Merrill Lynch's head of global economics in New York.
The euro area, another long-term source of investor angst, is closing the year stronger than it started as consumption and investment firm, European Central Bank President Mario Draghi told the region's finance ministers on Dec. 15.
With unemployment in the 19-nation currency zone falling faster than expected and fiscal policy gently supportive, there's room for upside surprises on wages and inflation in 2017.
Hanging over the region though is a series of elections in France, the Netherlands and Germany that will test its resiliency after Britain voted in June to leave the European Union.
"The big concern is France," where far right leader Marine Le Pen has gained popularity with her attacks on the EU, Collyns said.
Trump Benefits
While Europe and Japan should benefit from a Trump-fueled dollar rally, the picture is more mixed for emerging markets. Yes, companies in those countries will be more competitive on world markets. But many will also find it harder to service their dollar-denominated debts as the greenback and U.S. interest rates rise.
Two potential bright spots: Brazil and Argentina, South America's largest economies, where reforms pushed through this year could result in stronger gross domestic product in 2017.
The biggest question mark is what will happen in China, which confounded pessimists' predictions of an economic crash with a surprisingly steady expansion in 2016.
The world's second-largest economy faces what senior economic official Yang Weimin has called a "flurry of risks," including excessive corporate leverage and a bloated property market.
Yet "Beijing's got a big arsenal of weapons to throw at the economy," including possible interest rate cuts and an easier fiscal stance, Philip Shaw, chief economist at Investec Bank PLC in London, told Bloomberg Television on Dec. 16. He sees GDP growing at about 6.5 percent next year, in line with this year's expected outcome.
Of course, there's a lot that could go wrong with the world economy in 2017, not least of which is the possible outbreak of a trade war between China and the U.S. if Trump follows through on his campaign threats against the Asian nation.
And it's also the case that most economists haven't marked up their projections for next year and beyond by nearly as much as many investors are seemingly betting on. The number-crunchers at JPMorgan Chase & Co., for instance, see global growth strengthening to 2.8 percent in 2017 and 2018, from 2.5 percent this year.
What's changed though is the balance of probabilities surrounding the forecasts.
"We've been living in a world for most of this year where we've been feeling maybe the risks were a little skewed to the downside," JPMorgan Chase Chief Economist Bruce Kasman said in a Dec. 16 video distributed by the bank. Now "growth risks have shifted to the upside."